Differenziale Autobloccante Q2 ALFA-ROMEO (GTV, 147 GTA, 156 GTA)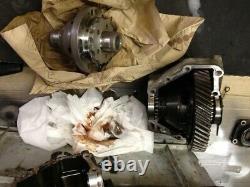 Modello: 147/156 / GT / Spider / GTV. Differenziale torsionale Q2 (limita lo scorrimento al 25% sotto carico, rispettivamente al 30% senza carico). Torsen significa "torque sensing" - questo differenziale rileva la differenza di aderenza delle due ruote anteriori e assicura un trasferimento progressivo della coppia alla ruota con la maggiore aderenza e quindi offre una migliore trazione. Il Q2 è molto fluido in azione - non funziona come un LSD a piastra convenzionale che può funzionare solo "bloccato" o "sbloccato" - trasferisce la potenza del motore in modo continuo e senza uno strappo del volante.
La potenza del motore non si esaurisce più in una ruota che gira senza grip o nel controllo di trazione ASR. Il Q2 arresta efficacemente il comune slittamento delle ruote che i motori JTD e V6 spesso causano quando si accelera con forza in uscita da una curva stretta. Le curve possono quindi essere superate più rapidamente e senza o meno regolazione ASR / VDC, il che si traduce in una perdita di potenza del motore e in una debole accelerazione. Il Q2 non solo migliora la maneggevolezza e la velocità quando si guida in modo molto sportivo, ma migliora anche la trazione su strade scivolose, fangose?? E ghiacciate poiché trasferisce sempre la coppia del motore alla ruota con la migliore aderenza.
Adatto per i seguenti modelli / motori. Alfa 147 1.9 JTD e GTA.
Alfa 156 1.9 JTD, 2.5 V6 24V e GTA. Alfa GT 1.9 JTD, 3.2 V6 24V. Alfa 166 2.5 V6 24V, 3.0 V6 24V e 3.2 V6 24V. Spider / GTV (916) 3.0 V6 24V e 3.2 V6 24V. Torsen-differential Q2 (limits the slip to 25 % under load, repsectively 30 % without load).
Torsen means "torque sensing" - this differential senses the difference in grip of the two front wheels and assures a progressive transfer of the torque to the wheel with the higher grip and therefor offers a better traction. The Q2 is very smooth in action - it does not work like a conventional plate LSD which can only work "locked" or "un-locked" - transfers the engine's power continuously and without a snatching of the steering wheel. The engine's power no longer fizzles out in a grip-less spinning wheel or in the ASR traction control. The Q2 effectively stops the common wheelspin the JTD and V6 engines often cause when accelerating hard out of a tight bend. Curves can therefor be passed more quickly and without or less ASR / VDC regulation which results in a loss of engine power and weak acceleration.
Suitable for the following models / engines. Alfa 147 1.9 JTD and GTA. Alfa 156 1.9 JTD, 2.5 V6 24V and GTA. Alfa 166 2.5 V6 24V, 3.0 V6 24V and 3.2 V6 24V.
Spider/GTV (916) 3.0 V6 24V and 3.2 V6 24V. The item "Differenziale Autobloccante Q2 ALFA-ROMEO (GTV, 147 GTA, 156 GTA)" is in sale since Monday, March 29, 2021. This item is in the category "Auto e moto\ ricambi e accessori\Auto\ ricambi\Trasmissione e frizione\Differenziali". The seller is "franrub_2333" and is located in Aquino. This item can be shipped worldwide.
Quantità: 1
Marca: Alfa Romeo Torsen
Posizionamento sul veicolo: Cambio