5,70/ l Agip Racing 10W-60 20 ltr per Alfa Romeo 166 2.0 T-Spark GTA JTS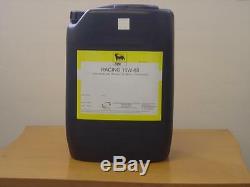 Agip Racing 10W - 60 completamente sintetico ad alte prestazioni olio motore in 20 lattine litri. Termicamente molto stabile, bassa volatilità e basso consumo d'olio. Soprattutto per alcuni modelli Alfa Romeo: vedi estratto dal foglio dati Agip TK 3 12/08: AGIP RACING 10W-60 è stato appositamente progettato per l'uso in Alfa Romeo Alfa 166 Versione 2.0 T-Spark , in GTA - motori raccomandati e JTS. AGIP RACING 10W-60 è approvato o risponde alle specifiche : API SL (CCMC G 5 , PD 2) BMW M GmbH Alfa Romeo Sorry for this bad translation : Agip Racing 10W - 60 vollsynthetisches Höchstleistungsmotorenöl im 20 Liter Kanister. Thermisch besonders stabil , daher niedrige Verdampfungsneigung und geringer Ölverbrauch , hervorragende Scherstabilität. Speziell für einige Alfa Romeo Modelle : siehe Auszug aus Produktdatenblatt Agip TK 3 12/08 : Agip Racing 10W-60 wird. Speziell von Alfa Romeo zum Einsatz im Alfa 166 Version 2.0 T-Spark , in den GTA - und JTS-Motoren empfohlen. Agip Racing 10W-60 ist namentlich freigegeben bzw. Erfüllt die Anforderungen der folgenden Spezifikationen : API SL (CCMC G 5 , PD 2) BMW M GmbH Alfa Romeo. Als Händler sind wir im Zusammenhang mit dem Vertrieb von Verbrennungsmotoren - und Getriebeöl gemäß der Altölverordnung verpflichtet unsere Kunden wie folgt zu informieren. Das Öl gehört nach Gebrauch in eine Altölannahmestelle! Unsachgemäße Beseitigung von Altöl gefährdet die Umwelt! Jede Beimischung von Fremdstoffen wie Lösemitteln, Brems -und Kühflüssigkeiten ist verboten!
Sind Sie Verbraucher im Sinne des § 13 BGB, können Sie Altöl in der maximal bei uns erworbenen Menge wieder kostenlos bei uns im Warenlager (Frinken Motorsport GmbH , Sambach 134, 96178 Pommersfelden) abgeben bzw. Das gilt sinngemäß auch für Ölfilter und beim Ölwechsel regelmäßig anfallende ölhaltige Abfälle. Wenn Sie derartige Abfälle oder Altöle zu uns einschicken , beachten Sie bitte die Transportvorschriften des von Ihnen beauftragten Versandunternehmens, Öl gilt als Gefahrgut!
Achten Sie auf eine auslaufsichere Verpackung. Sind Sie Unternehmer, benennen wir Ihnen auch gerne eine Annahmestelle in Ihrer Nähe. Zur weiteren Klärung der Rückgabe setzen Sie sich bei solchen Produkten bitte mit uns in Verbindung. Weitere Hinweise zur Altölverordnung finden Sie beim Bundesministerium für Umwelt, Naturschutz und Reaktorsicherheit. The item "5,70/ l Agip Racing 10W-60 20 ltr per Alfa Romeo 166 2.0 T-Spark GTA JTS" is in sale since Monday, May 5, 2014. This item is in the category "Auto & Motorrad\ Teile\Öl, Pflege- & Schmiermittel\Motoröl". The seller is "oelshop4you" and is located in Pommersfelden. This item can be shipped to European Union member countries.
Marke: Agip
Herstellernummer: nicht zutreffend
Menge: 20 L