Steering Wheel Interface ISO For Alfa Romeo 147 Type 937 GTA 156 GT SWC-29655CAN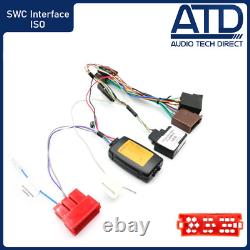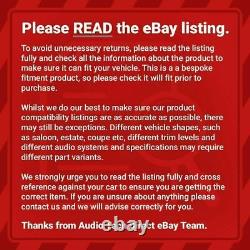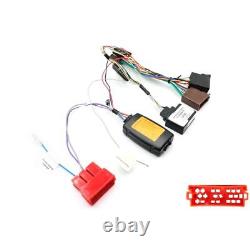 Steering Wheel Interface ISO For Alfa Romeo 147 Type 937 GTA 156 GT SWC-29655CAN. This Steering Wheel Control Interface to allow plug and play installation of an after-market head unit into a vehicle whilst maintaining use of the steering wheel controls. Steering control and stalk adaptors have a very simple but useful function - essentially, they enable you to retain the use of your steering wheel controls when you have an aftermarket head unit fitted, so you can control and enjoy your in-car entertainment exactly the way you want to. PLEASE NOTE: Each interface is compatible with a range of patch leads.
An additional patch lead is required for the steering controls depending on the make of radio being fitted. Allows you to upgrade to an aftermarket head unit whilst maintaining use of your factory steering wheel controls. Safety: Allows you to keep your hands on the steering wheel and eyes on the road. Choose the relevant head unit connection lead according to the make of aftermarket head unit you wish to fit. Please check the connections in the vehicle match the harness you are purchasing.
This interface is designed for vehicles that have permanent and ignition power feeds in the ISO connector in the dashboard. Some cars only have a permanent power supply and use the CANbus signal to turn on the radio, for these cars a separate ignition power will need to be supplied or use our 29-655 interface with switched 12v ignition. Fits the following Alfa Romeo vehicles.
147 (2007 - 2010) CANBUS vehicles only. GT (2008 - 2010) CANBUS vehicles only. There are small amount of cars pre-2007 that have CANBUS ignition. Before ordering please remove the original radio as the vast majority of original radios have a useful wiring diagram on the chassis. Remove the original radio and check, if illumination and switched power are showing on pin 2 and 3 of the diagram then it does not have CAN ignition and 29-655 is the correct interface for you. If Illumination and switched power are missing from pin 2 and 3 of the diagram then the car uses CANBUS ignition and will need interface 29-655-CAN. NOTE: on some cars, the steering wheel control wires are reversed, check and test for correct operation of the steering wheel controls before installing the new radio in the dashboard. If they are not as expected or reversed then the white and grey steering wheel control wires will need to have their positions swapped at the interface box. PLEASE NOTE: If the car is fitted with a BOSE sound system, this part must be used in conjunction with 20-266 Alfa Romeo BOSE interface.
Alfa Romeo - 147 (Type 937) (2000 - 2010). Alfa Romeo - 147 GTA (2002 - 2005). Alfa Romeo - 156 (Type 932) (1997 - 2005). Alfa Romeo - 156 GTA (2002 - 2005).
Alfa Romeo - GT (Type 937) (2004 - 2010). Please make sure that is the correct Steering Control Adaptor for your vehicles by firstly checking to see if your make, model and year of car is listed in the advert. Secondly by checking to see if the connection in the picture is the same as you have in your vehicle. If the connection in the car is different from what you see in the picture then this adaptor is NOT suitable. Note: You may also require other accessories to fit your car stereo eg. Fascia adapter or an aerial adaptor. You will not require an ISO stereo lead as it can be substituted for this steering wheel adapter.
We stock the full range of stereo fitting parts, just ask if you need help. We cannot replace missing orders until this 14 day period has passed. We try and inform you for the courier used on the listing page.
For customers in non-EU countries, we find it is quicker and cheaper to actually send out our products direct from our manufacturing factory in CPR. If you are unhappy with this, then you will need to let us know at the point of order but as it is cheaper and quicker, we doubt there will be an issue as we are well versed in export.
Some items are only in our UK warehouse, so will have to be dispatched from there. We have a few warehouses across the UK so you may find if your order two or more different products then they could possibly be dispatched separately. The items will arrive on the service specified for each item. Whether your item has developed a fault, is damaged or is no longer required, we can help you out. UNWANTED / NOT REQUIRED PRODUCTS.
This can be the sales receipt, a bank statement or an online sales invoice. They must include all original packaging, be in "as new" condition and must not have been used, installed or had any data input on them.
We do not cover faults caused by accident, neglect, misuse or normal wear and tear. We are experts in what we sell, so don't always assume something is faulty because it may well not be. Tell us your issue and we will know if it is or if it is not. We are here to help. If you unpack your product and find it damaged, please let us know as soon as possible and please validate the claim of damage by supplying a picture of both the damaged contents and the parcel box it arrived in.
We will assess the claim and resolve promptly. Only once the order has been confirmed as cancelled by a member of our team is this the case. We do not take financial responsibility for the cost of the return of any products ordered in error or that are no longer wanted. We will then arrange for your item to be repaired or replaced with a new product or provide details of the manufacturers local service centre.
We are not responsible for installation costs under any circumstance. We strongly advise you to take care when returning items to us; for example, by ensuring the goods are correctly addressed & adequately packaged.
Items that arrive back damaged or destroyed as a result of poor packaging will not be accepted. These items will be resent to the customer at the customer's expense.
If you have received a faulty or incorrect item: You must notify us within 10 days of receipt, we will then arrange to replace or repair the unit. This guarantee does not cover effects arising from accidental damage or misuse of the items, and is automatically lost if the item is opened by non-qualified or unauthorised people.
Please note that minor issues may be resolved by supplying replacement parts or alternative solutions acceptable to both parties. This does not affect any statutory rights that you may have. Should your product develop a fault a. And the item will either be repaired or exchanged. This guarantee specifically excludes faults caused by accident, neglect, and misuse.
Based on the manufacturers' opinion, we will repair, (or at our sole option) replace such Goods with the same or superior Goods, without charge or not provide any of the aforementioned. Certain products are treated specially for legal and/or health and safety reasons, It is important for your own and our couriers safety that they are followed. As well as the above procedures the below must also be adhered to. Audio Tech Direct recommends that you have the item professionally installed by an IMI auto-electrician who specialises in car audio. We cannot accept customer diagnostic as a fault report.
Any issues are usually resolved by troubleshooting the problem. All units are tested prior to dispatch and should you run into any installation issues we are here to help. Audio Tech Direct LTD has grown into one of the UKs largest authorised car audio, mobile and tech internet dealers, with thousands of satisfied online customers. We are all about trying to bring the best and most contemporary products available.
We offer bespoke units for most applications, if not, we can convert to another solution. We specialise mainly in the In Car Entertainment area, we offer a huge range of car stereo's from single DIN units, double DIN units and car specific units plus a range of stereo accessories such as reversing cameras and media cables. In fact, we are the UK's largest supplier of OEM-style fit head units with over 100 types to choose from and we are also the UK's largest supplier of reversing cameras, with over 80 different variants to choose from.
We are very passionate about our business and we spent months vetting our complete product range to make sure only the very best items made it onto our shelves and finally onto you. Our after sale support is second to none.
Plus should an item ever need to come back to us for any reason then it will come back to a UK address and also be inspected by one of our in-house technicians. Overall, we offer excellent support and a stress-free UK retailer experience. From our head office facility in Shropshire, our dedicated team provide sales, marketing, technical and after sales service for all here for you. Orders are processed seamlessly throughout the day and our sophisticated despatch system utilises the latest technology to ensure the right products are released on time quickly and efficiently. We are based here in the UK, with a UK company number and VAT number.
Note: Closed on weekends and during UK Public Holidays. Lenkrad Interface Iso für Peugeot 806 Expert Mk1 Lania Zata Swc Adapter B. Steering Wheel Interface ISO For Alfa Romeo 147 156 GT GTA Car Adapter SWC-29655. Direction Roue Interface Iso Pour Scion Iq TC Xa Xb Xd Toyota Alphard AH10 AH20. Lenkrad Interface Iso für Toyota Alphard AH10 RAV4 XA30 SWC-29648RAV4CAM.
This listing is currently undergoing maintenance, we apologise for any inconvenience caused. This item is in the category "Vehicle Parts & Accessories\In-Car Technology, GPS & Security\Terminals & Wiring\Steering Wheel Interfaces". The seller is "audiotechdirect" and is located in this country: GB. This item can be shipped to all countries in Europe, United States, Canada, Australia, New Zealand.
Brand: Audio Tech Direct
Manufacturer Part Number: SWC-29655CAN
Compatible Vehicle Make: Alfa Romeo
Suitable for: Head Unit
Colour: Black
Alternative Part Number: 29-655-CAN